Findings So Far…
The main findings so far relate to the Holy Trinity Priory and the Roman colonia. In the south-western corner of the site is the boundary wall of the Holy Trinity Priory. This was found to still be present just below the pavement of Micklegate street. The limestone wall survives in good condition in some places with facing stones still present.
Re-Use & Re-Purpose:
We have found evidence for the reorganisation of structures and space within the Holy Trinity Priory. A wall structure with a tiled hearth inserted into it was present close to the boundary wall. The wall was constructed of reused limestone blocks, including a block with column details. It is suspected that the blocks may have been reused from buildings within the priory, perhaps when the internal structure of the precinct was being reorganized. Underneath the structure was an earlier larger tiled hearth. This is probably associated with another limestone wall to the south-east.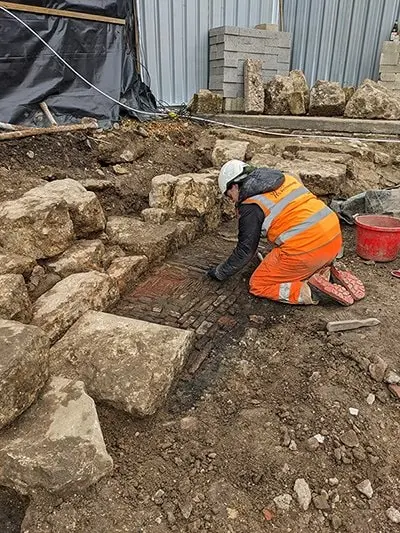 Layer Upon Layer of History:
We have also found evidence for relating to medieval robbing and rubbish pits overlying Roman deposits. A line of large gritstone blocks was found which were probably supports for a raised floor or wooden posts. The stone blocks were all reused from other Roman buildings and included a plinth base probably from a large building. The latest Roman deposits were a tiled hearth constructed of roof tiles, one of which had a shoe print on its underside. This was also probably associated with a small smelting oven that had been demolished. Below these structures were demolition deposits containing large number of broken pottery as well as a number of bone pins. This demolition layer was over the remains of a metalled surface possibly indicating an external area at this time. The earliest deposits we have currently uncovered are in-situ plaster against a possible beam slot associated with an internal floor surface. This is possibly also associated with a footing for a wall. This is our first evidence of a relatively intact internal room.
George Loffman, Project Officer